Specialist Services
Arran's manufacturing range includes products for diverse industrial applications and features a range of pharmaceutical intermediates, flavour & fragrance and other personal care products and speciality chemicals (including monomers). Specialised products including those with applications in chiral chemistry and development products are also manufactured on site.
Flavour and Fragrance
With over twenty years' experience in manufacturing speciality compounds for flavour and fragrance, Arran can offer an interesting range of structures, supported by sophisticated QC procedures, including organoleptic evaluation and the opportunity to develop products from gram to tonne scale.
Chemocatalysis
Arran currently offer a wide selection of chiral diamines, amino-alcohols and diols that are widely used for the asymmetric synthesis of chiral molecules. Arran also has extensive experience in chemocatalysis scale up and the manufacture as well as use of a number of related chiral ligands, organocatalysts and organometallic catalysts useful for the production of chiral products.
Biocatalysis
Biocatalysts are essential tools in chemical synthesis, particularly in the synthesis of pharmaceutical and fine chemical targets. As highly selective catalysts, they offer a direct and simple way to synthesise complex achiral and chiral compounds.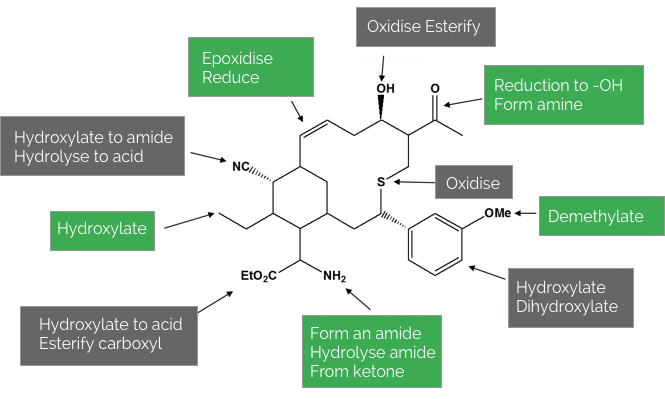 There is a common misconception that enzymes are unstable and expensive, work only under high dilution and do not lend themselves well to scalable chemical processing. However, our significant expertise in using biotransformations at a multi-tonne manufacturing scale, has proved biocatalysis to be the most efficient processing solution. In addition, the timelines required to develop these bioprocesses are now comparable with chemistry scale-up, due to the availability of "off-the-shelf" enzymes, such as those in our selectAZyme™ platform.
There are a number of key factors involved in the development of a biocatalytic process such as substrate concentration, enzyme loading, solvent choice, product extraction and isolation. Development work consists of investigating reaction robustness by stress testing each of the relevant parameters, taking the reaction to its limits and then setting the optimised conditions.
Get in touch